For this study, I partner with a Daniela Rubio, founder of the Intercultural Studio. We implemented a mix-method approach, which included data analytics and deep-dive focus groups to identify key attitudes and behaviors around beauty products among Hispanic consumers.
Multicultural consumers are not only transforming the US mainstream market but driving the buying power with an estimated $3.2 trillion in 2018. As America grows more diverse, understanding behavior and minority consumers' preference is becoming a top priority for brands. The objective of this study was to identify cultural behavior and understand how Hispanic customers act and interact with beauty products, what influences their actions so brands can talk to the right audience, through the right channel, with the right message, and language.
Using OYE! Business Intelligence we collected 4,521,796 conversations on Twitter (307,559 for Makeup and 214,237 for Skincare) of which OYE!'s proprietary algorithm identified 31,345 Hispanics. All the data was gathered from a 30-day period. The Intercultural Studio recruited 20 participants that matched the following criteria: 50% Bilingual and 50% Spanish only speakers, Between 25-60 years old, 50% female and 50% male and currently living in states with high percentages of Hispanics. The analysis was done using a combination of qualitative analysis expertise from a team of Anthropologists, Sociologists, and Data Analysts using AI technology.

For Makeup, Hispanics made up 14.4% of the total amount of conversations, representing the second biggest ethnicity group for this topic behind White Americans (74.8%), while for Skincare, Hispanics represented 11.4% of the total conversations, which is within the average Hispanic percentage range we typically see in data-driven studies (10% – 15%). In terms of volume, this analysis indicates that, for Hispanics, Makeup is a more popular category than Skincare. When we analyzed gender, Hispanic males were more active on social media when it came to Skincare (35%) than Makeup (23%), a common denominator amongLatino men washow they found it attractive when women put on their makeup.
Top Brands for Hispanics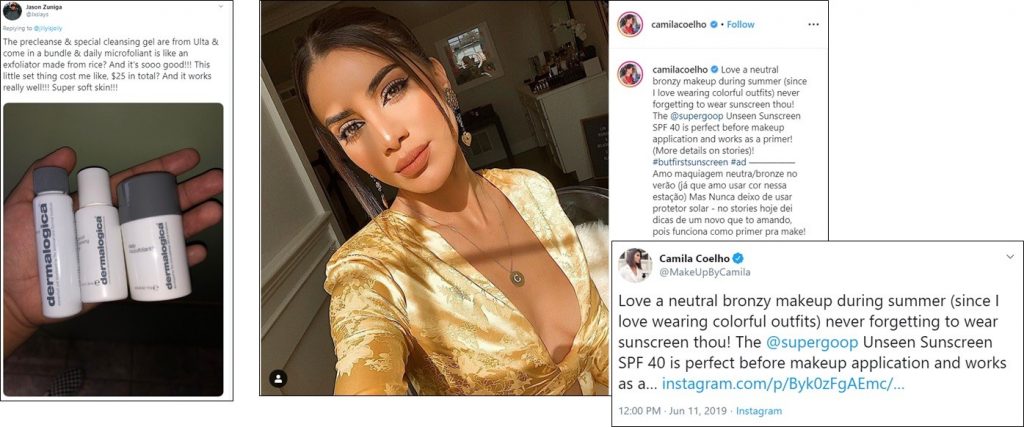 The most popular makeup brands mentioned by Hispanics were E.L.F. Cosmetics, MAC, Maybelline, Clinique, and Tarte Cosmetics. Lipsticks (34%) and Lip Glosses (25%) were the two main products that drove online conversation and positive sentiment followed by mentions of Concealers (17.3%), however, the qualitative research revealed that Foundation, Concealer and Face Powder were the most commonly used products and Maybelline was a popular go-to brand.
When analyzing conversations for Skincare, the most popular brands were Kiehl's, Mary Kay, St. Ives, Elizabeth Arden, andthe top categories were Sunscreens (38%), Face Masks (30%), Moisturizers (9%), Exfoliators (6%), and Toners (6%) and The Intercultural Studio identified Moisturizers and Sunscreens as the common skincare products.
Geo-Analysis, Understand Where Your Customers Are

The top locations for Makeup and Skincare were Los Angeles, New York City, and Miami. California and Texas were the major players when it came to makeuponline conversations. Four Texas cities appeared in the top 10 US locations meanwhile three Californian cities appeared in the top 10 US locations.
According to Pew Research, Los Angeles County, CA contains 4.9 million Hispanicsrepresenting the largest Hispanic population in the U.S. while Miami-Dade County, Florida has 1.9 million Hispanics which will explain the chart above. Data analytics allows advertisers to gain deep insights into their target audience (demographics, geography, behavior, the language of preference, etc,) to maximize ad campaigns.
Influencer – Microinfluencer Identification
OYE! solution discovers multicultural influencers and can track conversations to determine the pulse of what's trending.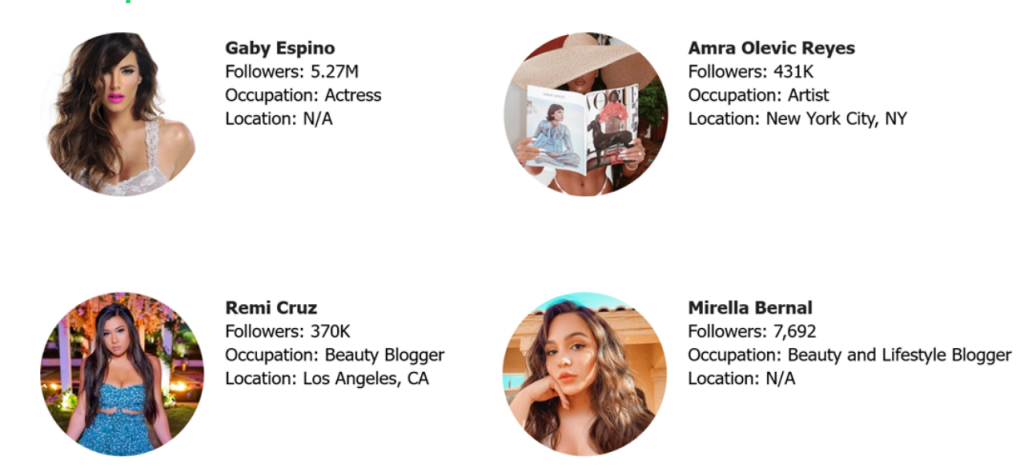 Latino Influencers (over 150K followers) and micro-influencers (those between 1K and 150K followers) can be leveraged throughout the year to boost product awareness and influence Hispanic consumers to consider new products.
Remi Cruz is from Los Angeles, CA which was the top US location for Skincare. However, she was the only skincareinfluencer from California. Among the respondents for the qualitative analysis, the internet remained the main source of information for new beauty products. Youtube was the biggest media source to watch influencers recommend specific styles, products, and brands.
Some Key Learnings…
Hispanics enjoy visual and vibrant content. Wearing makeup is a way of enhancing their beauty and feeling good.
Posts showcasing the product in use was very popular among Hispanics as it gave them a preview of what it might look like when they try it on.
Sun damage is among the top concerns for Hispanics. Sunscreen was one of the biggest categories Hispanics talked about during the study.
Exfoliators are among one of the most popular Skincare products that Hispanics post about online.
Beauty for Hispanics is a combination of having a clean face and skin, being able to enhance their features, and being presentable. Oftentimes, Hispanics are called a "culture of beauty" where looking good represents self-confidence, not vanity.
The full Beauty Research Study can be downloaded here
QUESTIONS? Email us at Natasha@thenativa.com | daniela.rubio@interculturalstudio.com